From ABCs to Cap and Gowns: Lil' Bobcat Preschoolers Graduate
On Wednesday May 17, 2023, preschoolers graduated from the Lil' Bobcats Preschool in the BAHS media center. They are officially ready to embark on their education journey, starting with kindergarten in the fall.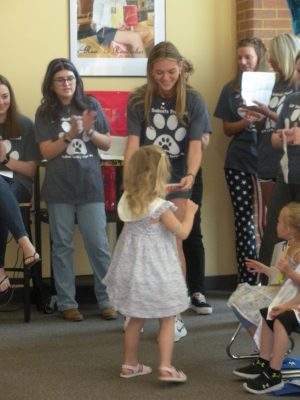 Lil' Bobcats were dressed in their adorable attire of a cap and stash.  The media center was decorated with balloons and family and friends. During the celebration, there was a performance by the children of "Let's Go Swimming/Goldfish Song" by The Laurie Berkner Band.  
The celebration was not only for the preschoolers but also for the Seniors, who have completed their pathway in early childhood education. These Seniors worked with the children daily. Thanks to the Seniors, these children gained confidence and preparedness for Kindergarten this fall. 
Just like their Lil' Bobcat counterparts, the Seniors will be graduating in June at Harford Community College's Arena. Good luck, everyone!