NFL Draft to Begin Thursday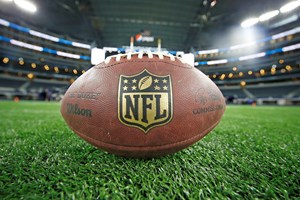 With the NFL draft coming up on April 27-April 29, teams are now trying to find the best players to fit their team. Top prospect of the draft, Bryce Young. A quarterback out of the University of Alabama, who had won the Heisman Trophy in 2021, Best Male College Athlete ESPY Award, Associated Press College Football Player of the Year Award, The Doak Walker Award.  
Bryce may be little in size, only coming in at 5'10 and 204 lbs. This past season, Young threw for 3,328 yards, only had 5 interceptions, threw 32 touchdowns and finished with a final quarterback ranking of 86.2 for the 2022 season. During his Heisman winning season he threw for 4,872 yards, only had 7 interceptions, and threw 47 touchdowns. Now that Bryce Young is on the Texans and the Panthers radar, he is projected to go first or second overall in the 2023 NFL Draft 
Next prospect is Bijan Robinson. Robinson, a running back for the University of Texas. Coming in at the height of 5'11 and weighing 215 lbs. Bijan won the Doak Walker award for the 2022 season as well as being a unanimous All American. Robinson attempted 258 plays or runs, rushed for 1,580 yards, scored 18 touchdowns and averaged 6.1 yards per play.  
During the NFL combine Robinson ran a 4.46 40-yard dash, a 1.52 10-yard split, had a vertical of 37 feet and a 10' 4" broad jump. With Robinson on the Philadelphia Eagles, Buffalo Bills and the Dallas Cowboys radar, that increases his chances of going very quick in the first round of the draft. 
The third prospect of the draft is Ohio State quarterback, CJ Stroud. During CJ's career, he has won the Graham Offensive Player of the Year award two times (2021,2022), the Griese-Brees Quarterback of the Year award twice (2021,2022), Thompson-Randle El Freshman of the Year award (2021), he was on Second Team All American (2022), on Third Team All American in 2021 and finally on First Team All-Big Ten twice (2021,2022). Along with being nominated for the Heisman Trophy this past season, but fell short to USC quarterback, Caleb Williams. 
During this past season at Ohio State CJ stood out. Passing for 3,688 yards, throwing 41 touchdowns, only throwing 6 interceptions and finished with a ranking of 88.9. Stroud comes in at 6'3 and weighs 214 lbs. At the NFL Combine Stroud didn't do much but just threw to receivers. But his arm strength is what got him on so many teams radars.  
Our next prospect at the number four spot is linebacker Will Anderson, University of Alabama. This isn't the first time Alabama has had many top prospects, considering they have one of the greatest coaches of all time. This past season Anderson had 24 solo tackles, 10 sacks and one interception. Although Will didn't have the most amazing season that he's had, his aggression and toughness put him up high in the rankings.  
During Anderson's career he has won the SEC Defensive Player of The Year award, Nagurski Award, Bednarik Award, Lott IMPACT Trophy and the Lombardi Award. This past year he came in fifth for the Heisman Trophy. Will Anderson is 6'3 and weighs 253 lbs. At the Combine he ran a 4.6 40-yard dash and had a 1.61 10-yard split. Will is a very strong player and plays with passion and aggression.  
Our last prospect is Jalen Carter, a defensive tackle for the University of Georgia. During Carter's career at the University of Georgia he was a 2-time national champion, unanimous All- American and Second Team SEC. This season Carter had 16 solo tackles, 3 sacks, 2 forced fumbles and no interceptions. Even though Jalen Carter didn't participate in drills at the combine, he still stands out to NFL coaches. Although being arrested on reckless driving charges, it doesn't affect his drafting spot dramatically.  
In the next coming days, Thursday April 27, the draft is on live. We hope to see all these young players succeed in their upcoming careers.