The Bel Air Drama Company is thrilled to be hosting auditions for the fall show, "The Skin of Our Teeth" this September 12th in the black-box theatre! This Pulitzer Prize-winning comedy written by Thornton Wilder is a must-see, addressing conflicts with humor & short quips, according to Concord Theatricals.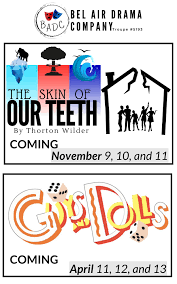 "The Skin of Our Teeth" follows the Antrobus family as they dodge several apocalypses, and somehow survive through ice ages, floods, and wars. This play is unlike any other as it is based on chaos. Characters break the fourth wall, addressing the fact that they're in a play, and the absurdity of the scenarios they're put in. The show is also based heavily on metaphors and humor, addressing real world conflicts with witty remarks.  
 If acting isn't for you, tech applications are also open until September 15th. There's a spot for everyone, having backstage crew who move set pieces, lighting designers working with the spotlights, makeup crew, and more!
Applications and student contracts can be found on the bulletin board outside the black-box theatre! 
Story continues below advertisement