Softball and Track Advance to State Playoffs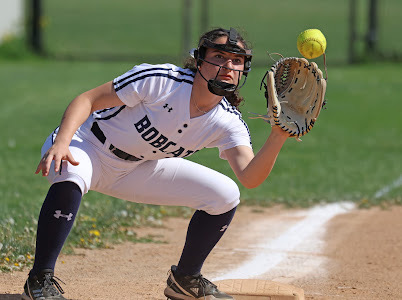 On Monday, the varsity softball team played against the Kenwood Bluebirds. They won the game with a final score of 15-0, and this score allowed them to move on to the third round of playoffs which was on Wednesday 5/17 against Towson. 
On Tuesday, the track team competed in the first part of the regionals. Many individuals and small groups had qualified for states which will be at the end of the month. 
In the game against Kenwood on Monday, many players made great plays to lead their team to success. Freshman Sadie Whittaker, pitched a no hitter against Kenwood. Another freshman, Claire Bowden, hit an incredible triple off of Kenwood's pitcher. Senior, Kyrsten Coppage, has been hitting a couple of home runs for the last couple of games as well. The team has worked really hard this year to get where they are, they've really come together for playoffs and we're really looking forward to seeing how they'll go.  The girls' team plays next this Saturday, May 20th against the first seeded team in the state!
At the regionals meet on Tuesday, members of the track team also performed really well. The following individuals have qualified for states: Freshman Ava Tischler- 3200m (2nd place), Junior Cody Bazemore- Boys Long Jump (1st place), Senior Christopher Vonziah- Boys Shotput (2nd place). Not only did individuals qualify, but so did small groups.
The following small groups have qualified for states: Gianna Dawson (11), Anna Kane (10), Ava Tischler (9), Tyrata Srisukwattananan (9)- Girls 4×800 Meter Relay (2nd place). Ryan Cascone (12), Charles Hammond (11), Jack Hynes (12), Garrett Saboy (12)- Boys 4×800 Meter Relay (1st place).  
Congrats to all of our state winners!