Engineering Team Reclaims Winning Streak
For the first time in more than 3 years, the BAHS Engineering Team has brought home the win for the Cargo Ship Challenge at the Baltimore Museum of Industry. After a run of losses for the team, April 22nd's competition marks their hopeful comeback to their previous streak of wins.
BAHS's Blue Sharks (Sophia Chen, Caoze Huang, Kenny Chen, Dawood Rauf, Zain Shah) brought home the win for BAHS, with the Fürst Luchs (Ethan Lam, Kai Merulla, Ryan Berg, Dawson Zacharko, Christian Levine) coming in with a close second.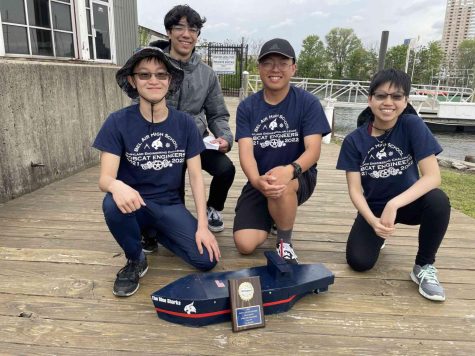 For those unfamiliar with the challenge, in simple terms, participating teams had to create a functioning (scaled-down) cargo ship that was able to carry 6 lbs of sugar and traverse a course set in the inner harbor. Whichever team was able to go through the course the fastest without any mishaps would win the trial part of the competition, though that alone wouldn't be enough to win the whole thing – teams were also required to submit a written report of all the work that went into designing and building their ship, recording the real cargo ships they referenced, dimensions of their ship, mathematical calculations, and materials used.
The Engineering Team's win was the product of an entire schoolyear's work – meeting over 50 times over the course of the year, they often worked late to complete the construction of their ships. Although the team was split into groups, everyone worked together to help each other; when one group fell behind, others would help to pick up the slack. Blue Sharks team captain Sophia Chen recalled a moment like this: "We had a boat that was an unpainted hull until the last day, me and two guys went from first period to 8 P.M. on the last day to finish it."
BAHS had five teams participating in the challenge: the Blue Sharks (1st place), Fürst Luchs (2nd place), Fuego Azul (4th place), Team Volley (7th place), and Blue Catfish (8th place). Hopefully this year's success is a good start to another run of wins!