Kindness Club Inspiring Bel Air Students & Community
Kindness Club made over 160 cards with inspirational messages for local cancer infusion center patients along with spreading kindness throughout BAHS.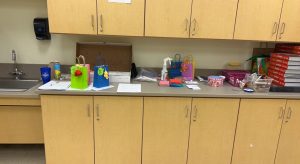 Dr. Rebecca Gault is a 9th Grade English teacher here at Bel Air High School. She was in the Top 5 Finalists for the HCPS 2022 Teacher of the Year, and is currently getting a special year-long documentary from the Department of Education.  
She worked with Senior Emily Fatkin to bring the Kindness Club to the forefront, and wanted to create a club that promoted student equity and addressed the lack of kindness. She feels that "having the Kindness Club weekly and not requiring to stay after school makes it more accessible and more promoting of equity." When asked for an interview, Dr. Gault graciously answered questions regarding the club. 
Q: What inspired you to start the Kindness Club? 
A: Honestly every time I'm feeling down, if I do something kind for somebody else, it makes me feel so much better. I wanted to teach kids that trick and spread inspiration to give kids the opportunity to be kinder to themselves by being kind to others. 
Q: How did the cancer center reach out to you? 
A: A friend of mind who is a former teacher reached out to me. She works with a group of people that work with cancer infusion patients. She saw that we were putting forth effort and wanted to link together. 
Q: What message do you hope to spread through the Kindness Club?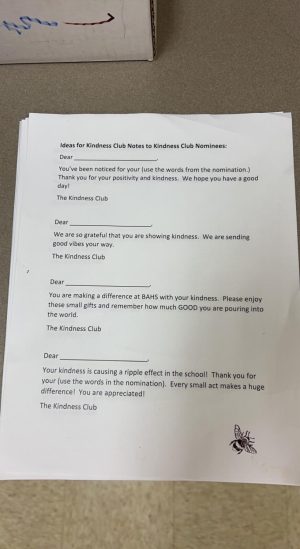 A: That kindness can change the world one person at a time. 
Senior Schaley Shaulis is also a member of the Kindness Club, a plan she never intended to pan out. "I wasn't originally planning on joining the club, but when I stopped by to see Dr. Gault, I'm glad I joined. It's a great club and I have a lot of fun making changes in the school."  
Through both the Kauffman Cancer Center and activities within BAHS, the Kindness Club is transforming the climate of Bel Air one card at a time. The Kindness Club is open to everyone and meets every Thursday and B-day Friday during homeroom. Don't be scared to stop by Dr. Gault's room and start spreading kindness!