Get to Know Local Shell-ebrity Henry The Turtle!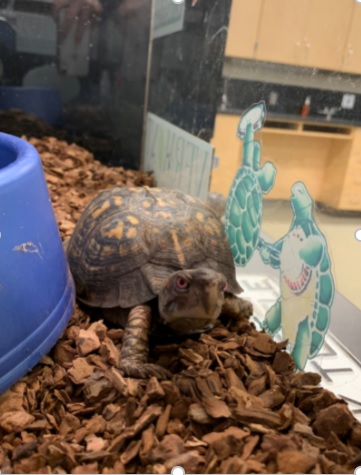 If you did not know yet, Bel Air High School has been a part-time home to a turtle for 21 years, which is how long the science teacher, Mrs. Snell, has been working here.  
This lovely turtle goes by the name of Henry, and he is around 24 years old. Mrs. Snell was on her way to work, found him in the road, picked him up and brought him here. Students are allowed to interact with him, and Mrs. Snell stated, "he loves attention."  
Not only is he always looking for attention, but he is also looking for an adventure. Henry sometimes spends his time wandering around the classroom while students are working. However, one time Henry made a great escape after a student left the classroom door open. He made his way down the hallway! Ironically, he is also fast.  
Fame is another part of Henry's life as he has an Instagram page. You can find him under the username @bahsturtle. If you are interested in meeting Henry, Mrs. Snell expressed that, "anyone is more than welcome to visit."