The Ultimate College Packing Guide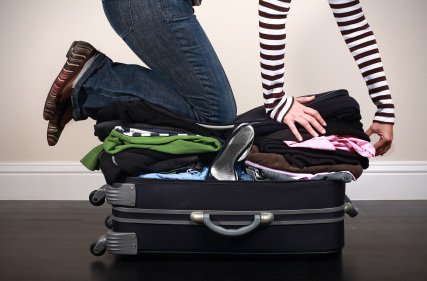 Hang on for a minute...we're trying to find some more stories you might like.
The time is almost upon us Bobcat Seniors, there are only a few more weeks and counting until graduation. Most colleges host their freshman move in day in August, which leaves just about 2 months to get ready. This can be a pretty stressful time for even the most organized so below I've compiled a list of the college essentials.
Bedding:
Sheet sets. I suggest 2-3 so you're not stuck waiting for them while they're being washed. Make sure to check what size you need! Most college dorms have a twin mattress, but some are extra-long.
A comforter or duvet. Not only does this help make your dorm look a little homelier, but it's something to keep you warm in the winter.
Pillows and pillow cases, in this case, the more the merrier!
Mattress pad. You may want to consider this if you have back/neck issues or if you're just looking for a little extra comfort.
A lightweight blanket, this is just something small that may come in handy if your dorm is a little too cold or if you spend some time in the common area.
Bed risers, these are handy when it comes to additional storage space.
Desk:
Desk lamp, of course there are lights in your dorm room, but this may be helpful if you have some late-night studying or homework to do and you don't want to keep your roommate up.
Desk organizer, nothing is worse than having a messy desk. Hop online and get yourself a cheap organizer to keep your things neat. You'll thank yourself come finals.
Power strip, you don't want to be stuck with more things to charge than outlets to use. A power strip will keep some unneeded frustration at bay.
A laptop, I highly suggest investing in one of these for college. It will be much easier than trying to go to the library at odd hours of the day/night.
A desk calendar or planner, there are a lot of important dates in college to keep track of and your professors aren't going to hunt you down if you forget. It would be in your best interest to keep all of those important dates in one place.
Waste basket, this is one of those purchases that just help keep a smaller space neat.
Typical school supplies: this would include pens, pencils, lead (for mechanical), tape, stapler, a hole punch, highlighters, post it notes, etc.
A flash drive, this is going to be pivotal purchase. Somewhere along the road there is going to be a group project in which you need one.
Printer and paper, you may want to consider buying a small wireless printer. This would most definitely make your life easier in the long run!
Cleaning Supplies:
Clorox wipes, keep a bottle of these in your dorm just to keep things clean, especially around flu and strep season.
Air fresheners, whether it be a plug in or a spray bottle this is something that may make your day a little better down the road.
Bug spray, the last thing you need to be worrying about are ants or other little creepy crawlies.
A little broom to keep messes to a minimum.
Hand sanitizer is always a good thing to keep around. Keep a bottle in your dorm and a travel size in your bag/book bag.
A laundry bin, detergent, and dryer sheets.
Paper towels and maybe a spray to keep dust at bay.
Toiletries:
Brushes and combs
If you wear glasses or contacts make sure to pack the necessary care supplies.
Cosmetics for days you want to dress up.
Toothbrush, mouthwash, toothpaste, and dental floss.
Shampoo, body wash, and conditioner. You may want to consider purchasing a little bag or caddy if you have a communal floor bathroom.
All the little things like: tweezers, Q-tips, nail clippers, shaving cream, etc.
Don't forget the pharmacy stuff!
Electronics and Furnishings:
Unless you use your phone you may want to invest in an alarm clock.
Batteries
All the necessary chargers.
Don't forget headphones! These are essential!
Adhesive hooks, nails and a hammer won't fly in college.
Lightbulbs
A whiteboard or message board to hang on your door would be a cute touch to make college a bit more homely.
Decorations to make your room a bit more personal, this is also a fun opportunity to get together with your roommate and coordinate your colors.
Don't forget all the photos and mementos, despite being excited to be on your own it'll be nice to have somethings in case you get homesick.
Storage crates! This will help keep things neat and organized.
Wardrobe:
Clothes hangers
Belts, scarves, gloves, etc.
Dress outfits for fancy events or dates.
At least one pair of shoes for each occasion (athletic, dress, casual, summer, winter).
Jeans and other long pants.
Shorts, skirts, dresses.
Long sleeve and short sleeve shirts
Sweatshirt and jackets (winter, light, and rain)
Luggage and/or duffel bags.
Pajamas
Gym wear and swimsuits.
Socks and undergarments.
*Most importantly, pack for your climate! If you're going to school in Florida your list will be different than someone going to Maine.
School Supplies:
A book bag, this will be especially helpful if you have to walk across campus for your classes.
A calculator
Folders and binders (I suggest a one inch binder for each class unless your professor says otherwise)
Highlighters, pens, and markers.
Pencils, I'd suggest lead. You don't want to risk showing up and your room doesn't have a sharpener.
Index cards for studying or notes
Post it notes
Scissors and tape
Sharpies!
A three hole punch and a stapler
Miscellaneous:
Atm card/bank card, cash, and check book.
Your driver's license
College ID and a lanyard to keep everything in the same place
Financial aid forms (just in case)
First aid kit for your dorm room
A bag or purse.
Your favorite movies and music.
An umbrella for the rainy season.
Sunscreen for those weekend trips and getaways
Well I hope I covered everything, Bobcats. As we come down to our last few weeks as Bel Air High School Seniors, I wish everyone the best as we continue on into our futures!