Mexico Series Makes History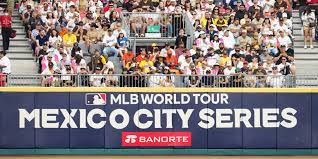 The first MLB games ever to be played in Mexico City took place this last weekend with a clash between 2 division rivals, the San Diego Padres, and the San Francisco Giants.
The Padres have gotten off to a surprisingly bad start after an NLCS appearance a year ago. The Padres are under 500. The Giants, who had an upsetting season last year after a historic one the year before, are off to a cold start as well. Their pitching has been under par. These two teams are looking to get hot to trend their seasons in the right direction. 
The 1st of the 2 games was an instant classic. The Alfredo Harp Helu Stadium is known to have a higher elevation than most MLB stadiums, which causes the ball to have a higher trajectory and make more home runs likely. There were 10 different players who hit a home run, which tied the record. Those players were Manny Machado, Juan Soto, Nelson Cruz, Brandon Crawford, Fernando Tatis Jr, LaMonte Wade Jr, Mitch Haniger, Xander Bogaerts, Blake Sabol, and David Villar.
There were 11 home runs hit in total as San Diego's star 3rd baseman, Manny Machado (who signed a huge contract this year) launched 2 home runs. He has been struggling to start the year and Padres fans are hoping he can ramp it up.
The final score was 16-11 and the Padres won the game. There were also back-to-back homers hit 4 separate times which is crazy. Giants' veteran shortstop Brandon Crawford originally hit a home run but was ruled foul after review. And on the very next pitch, Crawford pummeled a 482-foot home run into left-center field. The final score was 16-11 and the Padres won the game. 
Game 2 also included some home runs. LaMonte Wade Jr, J.D. Davis, Austin Nola, and Mitch Haniger. Nelson Cruz became the oldest player in Major League history to record a triple at 42 years old. MLB veteran Matt Carpenter delivered a clutch bloop double in the bottom of the 8th inning to make the score 6-4 Padres. The Padres would go on to win the game again 6-4 after scoring 6 unanswered runs in a comeback win sweeping the Mexico Series from the Giants.
The Mexico Series was a tremendous success for baseball, especially since the WBC was just 2 months ago, which included Mexico. Mexicans are starting to get more of an interest in Major League Baseball due to the MLB branching out and playing in different countries. Both games were also action-packed due to the higher elevation of Alfredo Harp Helu Stadium, causing there to be more home runs hit, which everyone likes. I hope the MLB's commissioner Rob Manfred will continue to play regular season games in different countries.