The Most Elite Eight of All Time!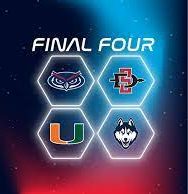 For the first time in NCAA Tournament history, no 1 seed made it to the Elite Eight, and no 1, 2, or 3 seed reached the Final Four. 
Here are the Sweet 16 and Elite 8 results: 
Sweet 16 
East: 
3 Kansas State defeats 7 Michigan State, 98-93 
9 Florida Atlantic defeats 4 Tennessee, 62-55 
West: 
4 UConn defeats 8 Arkansas, 88-65 
3 Gonzaga defeats 2 UCLA, 79-76 
South: 
5 San Diego State defeats 1 Alabama, 71-64 
6 Creighton defeats 15 Princeton, 86-75 
Midwest: 
5 Miami defeats 1 Houston, 89-75 
2 Texas defeats 3 Xavier, 83-71 
Regional Champions: 
East: 9 Florida Atlantic University 
Defeated 3 Kansas State, 79-76 
West: 4 UConn 
Defeated 3 Gonzaga, 82-54 
South: 5 San Diego State 
Defeated 6 Creighton, 57-56 
Midwest: 5 Miami 
Defeated 2 Texas, 88-81 
Final Four Matchups: Saturday, April 1 
Florida Atlantic vs. San Diego State @ 6:09 pm on CBS  
Miami vs. UConn @ 8:49 pm on CBS 
As mentioned above, this was the first year that all four 1 seeds were eliminated before the Elite Eight, and the first year that featured no 1, 2, or 3 seeds in the Final Four. UConn seems to be the favorite to win it all due to the sheer power of their offense, putting up 82 points against a powerful Gonzaga team and allowing only 54. Miami's level of play against Texas, despite not making a single three-pointer in the 2nd half, goes to show that their first ever trip to the Final Four could very well be a championship run. Florida Atlantic had what one may call an easy road, having to defeat the 8 and 16 seed in the first two rounds. However, Tennessee and Kansas State are great teams that FAU still beat. San Diego State upset Alabama, and it wasn't by a close score either. A last second foul call against Creighton may have boosted them into the Final Four, but what they do with it can still be impressive. 
The madness is wrapping up, but this year's tournament is in unprecedented territory. Tune in this weekend to watch the Final Four teams battle it out in Houston!