Boys LAX Teams Prep for Season with Scrimmage
On Thursday, March 16, 2023, the Bel Air High School Varsity and Junior Varsity lacrosse teams travelled to Kennard Dale High School to compete in a scrimmage against Kennard Dale. The scrimmage helped the Bel Air Boys lacrosse teams to prepare for a successful season, despite an 0-2 loss.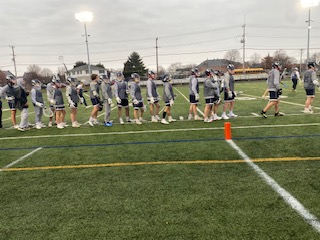 The scrimmages helped inform the teams on what they need to work on and how to prepare for a winning season. Varsity sophomore, Ben Gaughan said the scrimmages were helpful and "used to get a look at our weaknesses. We are fixing many of our issues and are ready to play," before the game on Thursday. 
The scores helped bring the players confidence when leading into the upcoming season. Both Bel Air Boys lacrosse teams are preparing for their next competition, against Perry Hall on March 21. Be sure to come out and support the team!