The Big Dance Bracket Revealed!
On Sunday, March 12, NCAAM Basketball revealed the 2023 March Madness bracket and opened the bracket challenge to millions of fans around the world.  
After Championship Week gave us many surprises, it's finally time for a month long battle to Houston. Let's go through ALL 68 teams competing for the prestigious title this year.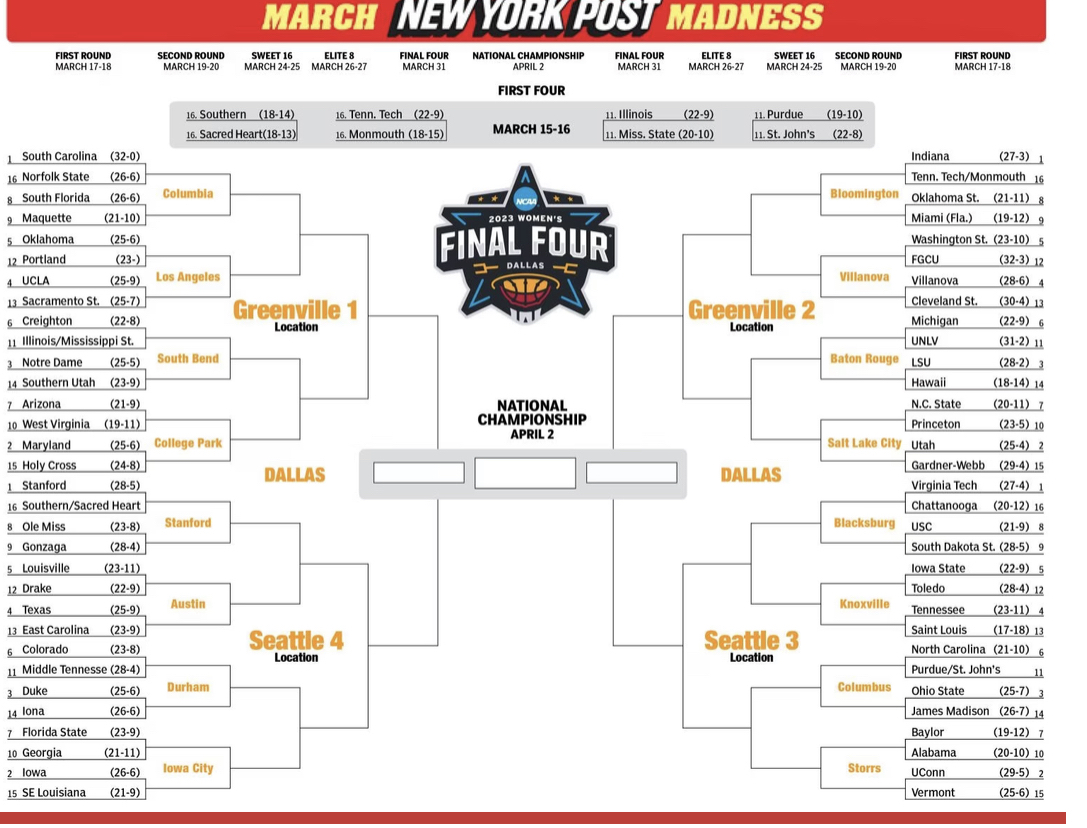 South Region 
No. 1 Seed – Alabama (Net Rank: 2, Record vs. Top 25: 7-4) 
No. 2 Seed – Arizona (Net Rank: 10, Record vs. Top 25: 6-1) 
No. 3 Seed – Baylor (Net Rank: 15, Record vs. Top 25: 5-5) 
No. 4 Seed – Virginia (Net Rank: 27, Record vs. Top 25: 3-3) 
No. 5 Seed – San Diego State (Net Rank: 14, Record vs. Top 25: 0-2) 
No. 6 Seed – Creighton (Net Rank: 17, Record vs. Top 25: 5-7) 
No. 7 Seed – Missouri (Net Rank: 42, Record vs. Top 25: 6-4) 
No. 8 Seed – Maryland (Net Rank: 31, Record vs. Top 25: 5-4) 
No. 9 Seed – West Virginia (Net Rank: 25, Record vs. Top 25: 4-8) 
No. 10 Seed – Utah State (Net Rank: 18, Record vs. Top 25: 0-2) 
No. 11 Seed – NC State (Net Rank: 45, Record vs. Top 25: 2-2) 
No. 12 Seed – Charleston (Net Rank: 51, Record vs. Top 25: 0-1) 
No. 13 Seed – Furman (Net Rank: 88, Record vs. Top 25: 0-0) 
No. 14 Seed – UCSB (Net Rank: 100, Record vs. Top 25: 0-0) 
No. 15 Seed – Princeton (Net Rank: 111, Record vs. Top 25: 0-0) 
No. 16 Seed – Play-In Game (Covered at end of article) 
Schedule 
8 Maryland vs. 9 West Virginia (Thursday, March 16 @ 12:15 pm on CBS) 
4 Virginia vs. 13 Furman (Thursday, March 16 @ 12:40 pm on TruTV) 
7 Missouri vs. 10 Utah State (Thursday, March 16 @ 1:40 pm on TNT) 
5 San Diego State vs. 12 Charleston (Thursday, March 16 @ 3:10 pm on TruTV) 
2 Arizona vs. 15 Princeton (Thursday, March 16 @ 4:10 pm on TNT) 
1 Alabama vs. 16 Play-In Winner (Thursday, March 16 @ TBD on TBD) 
3 Baylor vs. 14 UCSB (Friday, March 17 @ 1:30 pm on TNT) 
6 Creighton vs. 11 NC State (Friday, March 17 @ 4:00 pm on TNT) 
East Region 
No. 1 Seed – Purdue (Net Rank: 5, Record vs. Top 25: 3-2) 
No. 2 Seed – Marquette (Net Rank: 12, Record vs. Top 25: 7-2) 
No. 3 Seed – Kansas State (Net Rank: 24, Record vs. Top 25: 7-5) 
No. 4 Seed – Tennessee (Net Rank: 4, Record vs. Top 25: 5-3) 
No. 5 Seed – Duke (Net Rank: 16, Record vs. Top 25: 4-4) 
No. 6 Seed – Kentucky (Net Rank: 26, Record vs. Top 25: 2-4) 
No. 7 Seed – Michigan State (Net Rank: 33, Record vs. Top 25: 4-4) 
No. 8 Seed – Memphis (Net Rank: 23, Record vs. Top 25: 2-3) 
No. 9 Seed – FAU (Net Rank: 13, Record vs. Top 25: 0-0) 
No. 10 Seed – USC (Net Rank: 50, Record vs. Top 25: 2-4) 
No. 11 Seed – Providence (Net Rank: 56, Record vs. Top 25: 3-5) 
No. 12 Seed – Oral Roberts (Net Rank: 36, Record vs. Top 25: 0-1) 
No. 13 Seed – Louisiana (Net Rank: 89, Record vs. Top 25: 0-1) 
No. 14 Seed – Montana State (Net Rank: 103, Record vs. Top 25: 0-1) 
No. 15 Seed – Vermont (Net Rank: 109, Record vs. Top 25: 0-0) 
No. 16 Seed – Play-In Game (Covered at end of article) 
Schedule 
5 Duke vs. 12 Oral Roberts (Thursday, March 16 @ 7:10 pm on CBS) 
4 Tennessee vs. 13 Louisiana (Thursday, March 16 @ 9:40 pm on CBS) 
7 Michigan State vs. 10 USC (Friday, March 17 @ 12:15 pm on CBS) 
2 Marquette vs. 15 Vermont (Friday, March 17 @ 2:45 pm on CBS) 
6 Kentucky vs. 11 Providence (Friday, March 17 @ 7:10 pm on CBS) 
8 Memphis vs. 9 FAU (Friday, March 17 @ 9:20 pm on TNT) 
3 Kansas State vs. 14 Montana State (Friday, March 17 @ 9:40 pm on CBS) 
1 Purdue vs. 16 Play-In Winner (Friday, March 17 @ TBD on TBD) 
Midwest Region 
No. 1 Seed – Houston (Net Rank: 1, Record vs. Top 25: 1-1) 
No. 2 Seed – Texas (Net Rank: 7, Record vs. Top 25: 9-6) 
No. 3 Seed – Xavier (Net Rank: 22, Record vs. Top 25: 6-5) 
No. 4 Seed – Indiana (Net Rank: 30, Record vs. Top 25: 5-2) 
No. 5 Seed – Miami (Net Rank: 35, Record vs. Top 25: 3-1) 
No. 6 Seed – Iowa State (Net Rank: 20, Record vs. Top 25: 9-5) 
No. 7 Seed – Texas A&M (Net Rank: 19, Record vs. Top 25: 4-1) 
No. 8 Seed – Iowa (Net Rank: 39, Record vs. Top 25: 3-2) 
No. 9 Seed – Auburn (Net Rank: 32, Record vs. Top 25: 2-3) 
No. 10 Seed – Penn State (Net Rank: 48, Record vs. Top 25: 3-3) 
No. 11 Seed – Play-In Game (Covered at end of article) 
No. 12 Seed – Drake (Net Rank: 55, Record vs. Top 25: 1-0) 
No. 13 Seed – Kent State (Net Rank: 59, Record vs. Top 25: 0-2) 
No. 14 Seed – Kennesaw State (Net Rank: 115, Record vs. Top 25: 0-1) 
No. 15 Seed – Colgate (Net Rank: 101, Record vs. Top 25: 0-1) 
No. 16 Seed – Northern Kentucky (Net Rank: 154, Record vs. Top 25: 0-0) 
Schedule 
8 Iowa vs. 9 Auburn (Thursday, March 16 @ 6:50 pm on TNT) 
2 Texas vs. 15 Colgate (Thursday, March 16 @ 7:25 pm on TBS) 
1 Houston vs. 16 Northern Kentucky (Thursday, March 16 @ 9:20 pm on TNT) 
7 Texas A&M vs. 10 Penn State (Thursday, March 16 @ 9:55 pm on TBS) 
3 Xavier vs. 14 Kennesaw State (Friday, March 17 @ 12:40 pm on TruTV) 
5 Miami vs. 12 Drake (Friday, March 17 @ 7:25 pm on TBS) 
4 Indiana vs. 13 Kent State (Friday, March 17 @ 9:55 pm on TBS) 
6 Iowa State vs. 11 Play-In Winner (Friday, March 17 @ TBD on TBD) 
West Region 
No. 1 Seed – Kansas (Net Rank: 9, Record vs. Top 25: 7-7) 
No. 2 Seed – UCLA (Net Rank: 3, Record vs. Top 25: 3-4) 
No. 3 Seed – Gonzaga (Net Rank: 6, Record vs. Top 25: 4-4) 
No. 4 Seed – UConn (Net Rank: 8, Record vs. Top 25: 3-5) 
No. 5 Seed – Saint Mary's (Net Rank: 11, Record vs. Top 25: 2-3) 
No. 6 Seed – TCU (Net Rank: 28, Record vs. Top 25: 6-7) 
No. 7 Seed – Northwestern (Net Rank: 41, Record vs. Top 25: 4-1) 
No. 8 Seed – Arkansas (Net Rank: 21, Record vs. Top 25: 2-8) 
No. 9 Seed – Illinois (Net Rank: 34, Record vs. Top 25: 5-4) 
No. 10 Seed – Boise State (Net Rank: 29, Record vs. Top 25: 1-1) 
No. 11 Seed – Play-In Game (Covered at end of article) 
No. 12 Seed – VCU (Net Rank: 53, Record vs. Top 25: 0-0) 
No. 13 Seed – Iona (Net Rank: 58, Record vs. Top 25: 0-0) 
No. 14 Seed – GCU (Net Rank: 104, Record vs. Top 25: 0-0) 
No. 15 Seed – UNCA (Net Rank: 140, Record vs. Top 25: 0-1) 
No. 16 Seed – Howard (Net Rank: 214, Record vs. Top 25: 0-1) 
Schedule 
1 Kansas vs. 16 Howard (Thursday, March 16 @ 2:00 pm on TBS) 
8 Arkansas vs. 9 Illinois (Thursday, March 16 @ 4:30 pm on TBS) 
7 Northwestern vs. 10 Boise State (Thursday, March 16 @ 7:35 pm on TruTV) 
2 UCLA vs. 15 UNCA (Thursday, March 16 @ 10:05 pm on TruTV) 
5 Saint Mary's vs. 12 VCU (Friday, March 17 @ 2:00 pm on TBS) 
4 UConn vs. 13 Iona (Friday, March 17 @ 4:30 pm on TBS) 
3 Gonzaga vs. 14 GCU (Friday, March 17 @ 7:35 pm on TruTV) 
6 TCU vs. 11 Play-In Winner (Friday, March 17 @ TBD on TBD) 
Jeez. Now that that's out of the way, let's cover the first two days of March Madness (Tuesday, March 14 and Wednesday, March 15). This round is called the First Four, and decides the 16 Seeds for the South and East, while deciding the 11 Seeds for the Midwest and West. Here are the matchups: 
SOUTH: SEMO vs. Texas A&M-Corpus Christi (Tuesday, March 14 @ 6:40 pm on TruTV) 
MIDWEST: Pittsburgh vs. Mississippi State (Tuesday, March 14 @ 9:10 pm on TruTV) 
EAST: Fairleigh Dickinson vs. Texas Southern (Wednesday, March 15 @ 6:40 pm on TruTV) 
WEST: Nevada vs. Arizona State (Wednesday, March 15 @ 9:10 pm on TruTV) 
You're all caught up and ready to experience the madness! Let's see who has a Cinderella run this year…