Bel Air Boys' Volleyball Sweeps County Championship in Electric 3-0 Win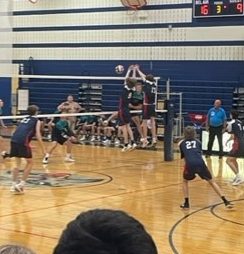 On Wednesday, October 26, the Bobcats Boys' Volleyball team finished out their season with another county championship in a clean sweep against the Patterson Mill Huskies 3-0. 
Each set was fought hard. Both teams scored many points in the first two sets, and it could've gone either way as both teams made it within 3 points of winning the set each time. However, Bel Air ran away with the third set, setting up a near 15-point lead to close out the game. The Bobcats came out with some great serves, kills and blocks that outmatched the Huskies and lead them to another county championship. 
The team was captained by head captain Zach Rey with co-captains Caden Ernest and Kajus Derby, who helped lead the team to victory. Junior Setter, Tom Silver, scored a whopping 15 points in serves during the game, helping the team to success. The most kills went to junior middle blocker, Christian Couch, who used his incredible hitting to give the team a strong push in the right direction. When interviewed, he had this to say about the team's performance: "We did a really good job and brought a lot of energy. Statistically, it is difficult to beat a team three times in one year. We played our hearts out and wanted to win more than Patterson [Mill]. For me to get a kill, there needs to be a pass and a set, so I couldn't thank my teammates enough for my success."
As fall sports come to an end, and with winter sports on the horizon, the boys' volleyball team lived up to the expectations and brought home another county championship for the school, keeping their three-year streak alive.