Girls' Soccer Hosts Bobcat Cup Tournament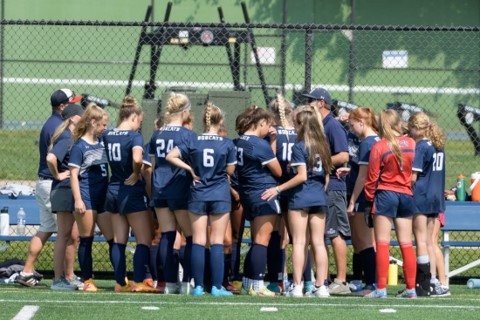 On Saturday, September 17th, the Bel Air Girls Varsity Soccer hosted Bobcat Cup at Bel Air High School to compete against schools from other counties.
Bel Air had their first game at 8am against Eastern Tech. Bel Air scored early in the game with a goal from senior, Payton Todd. The Bobcats held the lead and went into halftime ahead 1-0.
Starting the second half, the Eastern Tech Mavericks came back strong, resulting in multiple goals. The Bobcats fought until the end, but could not come back and lost 3-1.
C Milton Wright and Perry Hall played the next game in the tournament. Both teams fought until the end, but CMW pulled out the win, beating Perry Hall 2-0.
At this point, Bel Air was set to play Perry Hall in the 3rd and 4th place game, and CMW was set to play Eastern Tech for the championship.
Bel Air and Perry Hall played their game at 2pm, with Bel Air going in strong looking for redemption from the earlier loss. The Bobcats scored twice, from junior Cristique Duvall and junior Gianna Dawson to pull ahead 2-0. Going into halftime, Bobcats were still up 2-1.
Bel Air seemed to want the win more, closing out the second half with a win 5-2. Goals were scored by sophomore Ally Mace, junior Aleksia Mehani, and junior Kaylee DeRita. Bobcats clinched 3rd place in the tournament.
Finally, C Milton Wright and Eastern Tech played at 4pm for the championship. After a battle back and forth, CMW came out with a goal, winning the tournament 1-0.
The Bel Air Bobcats will host another Bobcat Cup tournament next year with new teams to compete against. Hope you can join us!