Lorin Repeats as Undefeated State Champ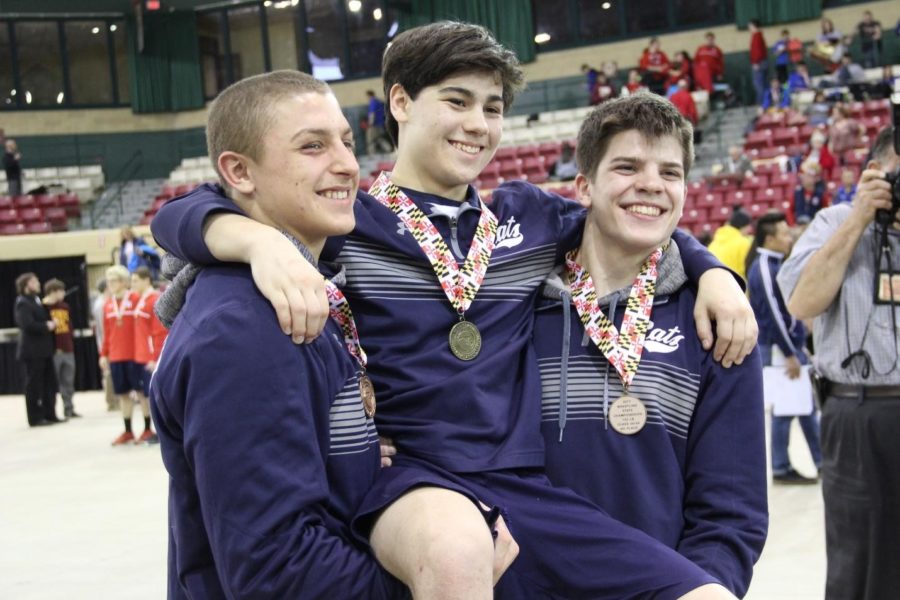 Winning the State Wrestling Tournament is the greatest achievement one can have in wrestling, albeit an incredibly difficult one. For a wrestler to win their sixteen man bracket filled with the greatest wrestlers at their weight in the state, it takes an insane amount of strength, conditioning, heart, and skill. Many wrestlers go all four years without even sniffing a state championship. Brent Lorin is only a sophomore at Bel Air, and has already won two, with a perfect record of 90-0.
Brent Lorin did the improbable again this year on March 3 and 4, 2017 at the Showplace Arena in Upper Marlboro, Maryland, winning another 3A-4A Maryland State Wrestling Championship with a perfect record of 46-0, this year at the 113-pound weight class. Last year, Lorin accomplished the same feat at the 106 weight class, going a perfect 44-0.  Lorin bumped up in weight this year to 113, citing the weight cut to 106 to be too tough to sustain. The increase in weight, as well as the added target of being a returning state champion did nothing to stop him, as Lorin handled all challengers with relative ease this season, winning the Battle in the Boro, UCBAC, and regional wrestling tournaments in dominant fashion. After three hard-fought wins at States, Lorin faced Parkdale High School's Axel Giron in the finals. In the closing minute of the match, Lorin scored a late takedown and then let Giron up before time expired for a final score of 3-2 in Lorin's favor. A hand raise, and one backflip later, and Brent Lorin was a two time state champion.
Brent was extremely happy with how his season went, believing that this second perfect season was validation that he is in fact one of the top pound for pound wrestlers in the state of Maryland. "It's an incredible feeling to be standing on that podium. I know there was going to be a lot of obstacles to get there this year, and a lot of doubt if I could win states again this year. But making it to the top again is really the greatest feeling in the world because it really shows that it wasn't just some one time fluke and that really put a lot of faith in my own abilities."
Bel Air wrestling coach, Craig Reddish was very impressed by Brent's second state title. "I think for Brent, really starting out his high school career, and winning two state titles and going undefeated is very impressive, and I think this year was even more impressive than last. I think last year he kind of flew under the radar a little bit, was talented and got to states and no one really knew whom he was. This year, the target was on his back, and I put him against all the best guys at his weight or above and he really answered the challenge, so it was impressive to beat a lot of really talented guys." Reddish also talked about the pressure and hype Brent had to handle about being a returning state champion, saying, "Becoming a state champ is a certain pressure, but then when the target's on your back it's a whole different set of pressures, so I think Brent handled it really well. I think he focused on improving some areas he needed to, adjusting to the subtleties of competition. He's just a great teammate and works hard. He deserves everything he gets."
Lorin was not the only Bel Air wrestler to have a successful weekend at states, as senior captains Scott Miser and Tommy Gomez were able to close out their high school wrestling careers placing at the state tournament. Miser took 4th place in the 152 pound weight class, while Tommy was able to place 5th in the 182 pound weight class. Each took home four wins in the state tournament to close out their great high school wrestling careers. With Brent winning the tournament, and Scott and Tommy both placing, Bel Air was able to place 9th as a team at states with only three wrestlers wrestling, an incredible feat.
Coach Reddish was extremely proud of the team's performance at states, stating, "The team did great at states, we qualified three wrestlers. All three wrestlers placed, with Brent Lorin defending his state title, Scott Miser placing fourth, and Tom Gomez getting fifth. We finished 9th overall, so I'm really proud of the wrestlers that went, placing in the states is a big deal, so that was a really a job well done."
Brent was extremely fond of the Bel Air team this year, but is also very excited for next year's season, stating, " I'm glad to have had such a great team supporting me this season, and I'll be working very hard to make it on top of the podium again next year."
Congrats to all Bel Air wrestlers on a fantastic season, and a special congrats to Scott Miser and Tommy Gomez placing in the state and Brent Lorin for winning his second state championship. All wrestlers put in a remarkable amount of hard work during regular season, especially these three wrestlers, so it is great to see that pay off for them at the end of the season.