Bobcats Claim First Round Victory in Mock Trial Playoffs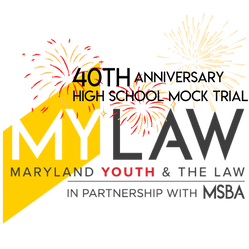 On Tuesday, February 7th, 2023, Bel Air High School's Mock Trial team won the first round of regional playoffs. Prior to this, Bel Air competed in and won one of four local competitions that took place in the Harford County Circuit Court.  
In 'Mock Trial' there are two opposing sides, the defense and the prosecution. Presiding over the proceedings there is an actual judge that not only comes to a verdict, but scores the teams based on presentation, arguments, and among other categories. The court's clerk assists in the procedures as well. The competition was created and run by Maryland Youth and the Law (MYLAW).  
According to the MYLAW website, the main objectives of the competition are to, "(1) Further understanding of the law, court procedures, and the legal system; (2) Increase proficiency in soft skills such as listening, speaking, reading and reasoning; and (3) Heighten appreciation for academic studies as well as career consciousness of law-related professions." 
Every trial consists of the same case using the same evidence and affidavits (all fictional and written by MYLAW). The 2022-2023 trial deals with the 18-year-old defendant, "Ryan Grimes," accused of participating in a drug ring at Catoctin College. Each team consists of three lawyers with the defense having one defendant (who also acts as a witness) with additional two witnesses, while the prosecution has three witnesses.    
Here's the results for the local matches Bel Air competed in in (starred = BAHS won):  
Bel Air (D) V. Joppatowne (P) [Thursday, January 12

th

]

 

Bel Air (D) V. Aberdeen (P) [Wednesday, January 18

th

]

 

**Bel Air (P) V. Edgewood [Tuesday, January 31st] ** 

Bel Air (D) V. John Carroll [Wednesday, February 1

st

]

 
As for the most recent match on Tuesday, February 7, Bel Air High School won the match against Pikesville while representing the defense. This match marked a change as the trial was the first of the regional playoffs and took place at Baltimore County's Circuit Court in Towson versus the original local rounds in Harford County's Circuit Court.  
So far, only one other match has been set for Bel Air in the playoffs, for Wednesday February 15th, 2023. Stay tuned for more updates!