Winter Concerts: Two Down, One to Go
Bel Air music classes performed this week in a three concert series, which will end this evening in a band concert at the high school. The music department is helmed by teachers Ms. Mary Lynn Twentey, orchestra; Ms. Terri Mathews, chorus; and Ms. Samantha Romero, band.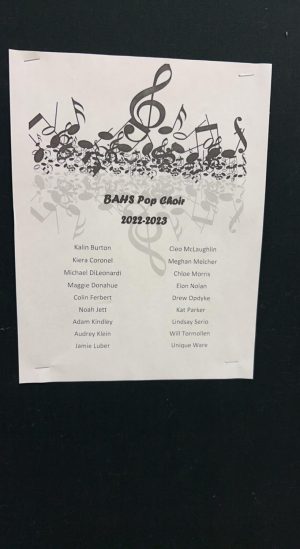 Students worked diligently the past few weeks to prepare for these festive shows. On Tuesday, the orchestra performed. Wednesday, the BAHS choruses performed. Tonight, the band concert will deliver the grand finale performance at 7 pm in the auditorium, led by Romero, director of bands.
Wednesday's chorus concert, led by Mathews, was a success, despite some unexpected hurdles that performers are all too familiar with.  Noah Jett, sophomore, shared that the groups had to cover one another when many students were out sick this week. However, the turnout was great, with "a lot of parents and families," says Piper Biermiller, sophomore. In addition, many alumni performed with the choruses during the song "Shalom."
Overall, students enjoy our music programs for the variety of experiences provided. Maggie Donahue, junior, shared one of her favorite things about chorus is "getting to learn and build abilities." Of course, also memorable is "being with all my friends," says Biermiller.
Come out and support our band tonight at their winter concert, 7 pm in the BAHS auditorium!