2018-2019 Homecoming Court Announced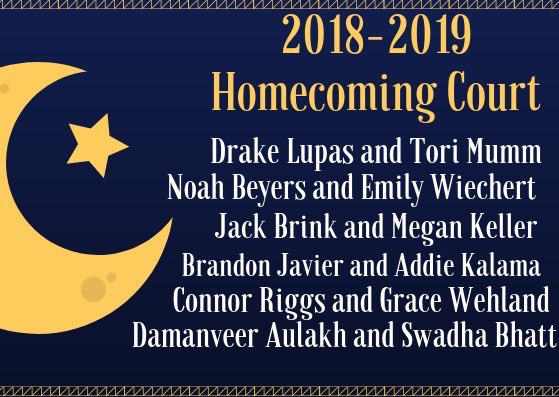 The 2018-2019 Homecoming Court was officially announced on Monday, October 8, 2018 and the pairings are as follows:
Drake Lupas and Tori Mumm
Noah Byers and Emily Wiechert
Jack Brink and Megan Keller
Brandon Javier and Addie Kalama
Connor Riggs and Grace Wehland
Damanveer Aulakh and Swadha Bhatt
The Homecoming Court is a joint decision between students and faculty, with students nominating peers they want to be eligible, and then the students with at least five nominations being finally decided on by the teachers and staff.
"I am very honored to have been chosen to represent Bel Air High School. Thank you so much to my parents, teachers, and friends who have supported me throughout my high school journey!" says Court member, Swadha Bhatt.
The Court will be honored on the field Friday night at the Homecoming football game, as well as Saturday night at the actual Homecoming dance.