Pokè Bowl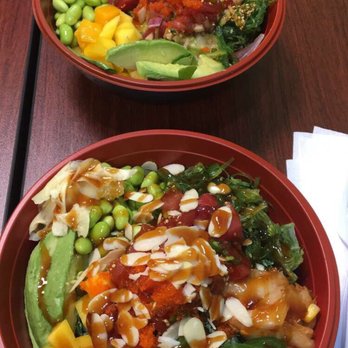 Score: 8/10
The new modern sushi restaurant, Pokè Bowl, has been open since mid-January 2018, and has done pretty well so far. The restaurant is located off of Baltimore Pike and in the shopping center with the Chili's and C.R. Wings.
When I walked in, I noticed how modern and bright the decor was inside. It reminded me of what the decor would look like if Sweet Frog was a sushi place. Immediately, the staff greeted us with smiles as we approached the counter to order.
There are different options of food to choose from. There are pokè bowls you can order, which is basically all the ingredients in a certain kind of sushi along with 'burritos,' which are, to my knowledge, a big sushi roll you can cut up like traditional sushi or eat like a burrito. Or, of course, you can be a little more adventurous and build your own of either of these two.
I'm not the biggest sushi person, but occasionally I do like a good California roll or spicy crab or tuna roll, so I wasn't sure what to expect with Pokè Bowl. This new food style is trending over the nation recently, expanding from Hawaii especially.
I ordered the 'Green Bowl' pokè bowl, which included mixed greens, pineapple, mango, avocado, cucumber, carrots, onion, kale, edamame, and was topped off with a sweet honey mango sauce. Like the rest of the bowls, the bottom of it was filled with your choice of hot white or brown rice. The bowl was huge and could even probably feed two people.
My bowl was good but was so much and something I'm not used to eating, so I could only eat half of it. It was sweet, and I played it safe between ordering a bowl with raw fish or peanuts. I found it kind of odd that there weren't that many pokè bowls on the menu to begin with but two or three included peanuts, and many people, including myself, have an allergy to those. Although, you can always make your own bowl or burrito, and there is the option of cooked shrimp.
Overall, I would give Pokè Bowl an 8/10 because of the polite and helpful staff, nice decor, wide range of food options, and the taste of the food. I would definitely go back, and maybe step out of the box a little and actually get some meat in my bowl. For more information on Poke Bowl, visit their website at http://www.pokebowlmd.com/