Seoul Korean Restaurant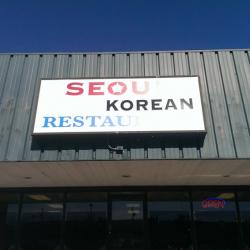 Erika Gonzales
October 8, 2016
Located at 1812 Pulaski Hwy, Edgewood, MD 21040, Seoul Korean Restaurant serves authentic Korean food to the local community. It is open Monday to Saturday from 10:30 a.m. to 8:00 p.m.
When you walk into the restaurant, you might be surprised to see it has a small interior, however, in my opinion, it creates a domestic atmosphere that allows its guests to comfortably eat their food. The interior design is simple, with paintings and patterned wallpaper on the sides of the counter and half the walls of the restaurant. Next to the counter, on the right-hand side, the menu is enlarged to allow customers to choose from the variety of dishes they offer. There's also a printed version of the menu that you can pick up at the counter.
I went with my friends and they ordered bibimbap, filled with assorted vegetables, meat, rice, and a fried egg to top it all off. The presentation of the food is very colorful due to the variety of vegetables: carrots, red bell peppers, zucchinis, cucumbers, and green onions. I would recommend to buy it with a stone bowl to prevent it from getting cold and to eat it in an authentic way. I also recommend ordering kimbap, which looks like sushi, however, it does not have raw fish in it like traditional sushi rolls. Instead, it has egg, beef, and vegetables as its filling. I also suggest ordering their ramen because it's not like the Maruchan ramen noodle soup college students eat as they cram for midterms and finals. The ramen they serve is offered in a larger quantity with broccoli, red bell pepper, green onion, egg, and meat. Entrées such as this include side dishes such as kimchi, cubed radish, and radish and carrots soaked in vinegar.  Personally, the bul goh gi, grilled marinated meat with sautéed vegetables, is my favorite. I also ordered the Tofu stew, to challenge myself because I rarely eat spicy food. The owner told me the next time I come to eat, I should try the Kimchi stew because it's much spicier and delicious.
The price range is reasonable because of their large portions. For example, the tofu stew may cost $10.99, however the bowl is huge and you are offered an extra bowl of rice and side dishes with your purchase. The most expensive item is the large bul goh gi which costs $11.99, which makes sense because my friends and I (there were five of us) had a hard time finishing the large portion. We ended up ordering too much and had to take some of the food home.
The owner of the restaurant took our orders and was very friendly and engaging with the customers, constantly checking if we needed anything. She definitely added to the domestic atmosphere the restaurant offers.
I would rate this restaurant 4 out of 5 stars because of its amazing food, reasonable price range, friendly staff, and homey atmosphere. Unfortunately, they don't sell desserts which is something I would love to have been able to order.
Overall though, if you are in the mood to try new Asian cuisines, I would definitely recommend Seoul Korean Restaurant! They also offer free delivery in the neighborhoods of Edgewood/Aberdeen with a minimum order of $40.