The Miracle Season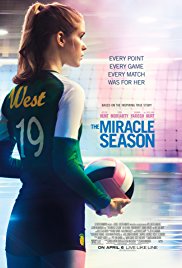 Score: 10/10
Rating: PG
On Friday April 6, 2018, the new inspirational movie "The Miracle Season," based on a true story, was released. The movie made $4 million just on its opening weekend.
The movie tells the story of a high school volleyball team in Iowa who are returning state champions, going for a second title. The team is determined to win at states again, until tragically, their star player, Caroline "Line" Found, passes away in an accident. Found was a friend to everybody and touched people with not only her goofy side, but her kindness and joy.
Throughout the movie, players, students, and family are affected by her sudden death, and struggle to keep positive. The volleyball team almost gives up on their dream of being back-to-back state champions. A new motto to remember Line emerges; "Live like Line", and it changes not just the students and players, but people in Iowa and the country.
"There's not a person that Caroline met that wasn't her friend," says Caroline's coach, Kathy Bresnahan, who also wrote The Miracle Season, a book that inspired the production of the movie.
The movie was great in capturing the true events of the inspirational life of and death of Line, and there were a few times where there wasn't a dry eye in the theater.
Sarah Markland, a sophomore at Bel Air High School, stated, "I loved the movie. It taught me a lot of life lessons," in regards to the movie's tale of honor and perseverance through hard times.
The credits at the end of the movie featured touching videos of the real family, friends, and players who knew Caroline during her life. The anthem to remember her, "Sweet Caroline" can be heard by students singing at athletic events in the home videos.
Although the Miracle Season received a 41% on Rotten Tomatoes and a 6.2/10 on IMDb, I would give it a 10/10 for its appeal to the audience's emotion and accuracy in its portrayal of the real events and characters.