Love Simon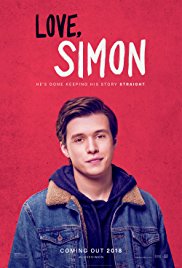 Score 10/10
Rating: PG-13
Love, Simon.
On March 16, 2018, the first appearance of Simon Spier was shown to the world. Love, Simon was based off the book, "Simon vs. The Homo Sapiens Agenda" written by Becky Albertalli and tells the story of the titular Simon, a high school student who struggles to hide his sexuality from the people at his school, and his family.
Love, Simon stars famed actor, Nick Robinson, who plays main character Simon Spier. The movie opens with Robinson narrating a dialogue that's unfamiliar to the audience, but leaves them waiting for more. "My name's Simon, I'm just like you," starts Robinson, ending with a 'huge-ass secret' that nobody except him (and now the audience) knows about.
The audience is then taken on a journey through Simon Spier's life, from friends and family to the infamous emails he shares with the anonymous student 'Blue'. 'Blue' explains that life feels like a Ferris wheel to him. Somedays he's on top of the world, while on other days, he's feeling like he hit rock bottom. The letter ends with a statement that changes Simon's life altogether, "Nobody knows I'm gay".
Throughout the rest of the film, Simon encounters obstacles with close friends he never thought to deal with. He struggles with keeping his sexuality under wraps, and continuously wonders who 'Blue' is.
I believe this film was one for the books. Many, many teenager's today struggle with sexual identity, and a lot feel like they are in the same situation as Simon. One day they're on top of the world, and the next they're all alone at rock bottom. This film inspires teenagers all over the world, and lets them know that they're not alone. That coming out to even just one person is something to take pride in, and being different than others is something you should never be ashamed of.
Scoring a well-deserved 98% on Rotten Tomatoes, Love, Simon is a movie I myself will never forget. Nick Robinson did an amazing job portraying Simon, and Jennifer Garner and Josh Duhamel played wonderful parental figures. I give this movie a 10/10 on my own scale, taking into account the messages and takeaway of the film. This witty Rom-Com drama film is a must-see.