Bleed for This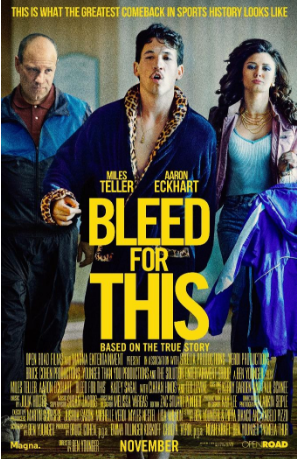 Rating: R
Score: 7/10
Bleed for This was released on Nov. 18, 2016, and while it gets pushed against the ropes by tired clichés and a rushed final act, it's still able to deliver a win with its gritty action and a knockout performance by Miles Teller.
Bleed for This tells the story of boxer Vinny Paz (Miles Teller) who, after finally reclaiming his boxing world title, severely injures his spine in a horrific car crash. Vinny can barely walk, let alone continue his dreams of fighting. Vinny refuses to have his neck fused, and begins taking part in risky workout sessions with his coach, Kevin Rooney (Aaron Eckhart), much to the disapproval of his worried father, Angelo Paz (Ciarán Hinds), all in the hopes he'll be able to box again.
The heart of Bleed for This is found within the dynamics of these characters and their relationships, and really drives home the fact that tragedy and dangerous behavior not only affect the victim, but also their friends and family. The film gives us an in-depth look of how risky Vinny's actions are, and shows us how much the other characters all care for Vinny and want to see him make it through this. Bleed for This builds a multitude of sympathy for its characters, which amps up the suspense as the film goes on, as we sit on the edge of our seat, hoping Vinny will be okay, for his sake, and for the sake of those around him.  
Part of why we care so much for Vinny and his journey is the absolutely superb performance by Miles Teller. Teller is phenomenal at expressing pain and emotion, and he can bring the drama of a scene up several levels as soon as he enters. Teller makes you feel Vinny's pain, making you experience the agony he is going through, which in turn helps you understand how hopeless his situation is, making his comeback all the more inspiring. Paz is just a plain, likable character even without his comeback story. He's somewhat of a cocky jerk, but also someone who works so incredibly hard to get what he wants. We all want to be like him, someone who acts like they're the best and works hard to be the best. This makes it impossible not to root for him when his career is almost put to an end by some sheer dumb luck.
It's hard to say this movie is clichéd since it's based off of a true story, but it's hard not to feel as though this is just another predictable boxing movie at times, as it hits many of the notes we've seen before, with the common story of a boxer making his way back to the top after a fall from grace. The movie does a standup job of overcoming this, with its great characters and its stellar attention towards what a comeback of this magnitude really takes, bringing it far and away from just a standard boxing movie.
The boxing scenes themselves are fantastic and thrilling. They're hard-hitting and make you feel every punch, with drama building after each blow. They also allow Teller ample opportunity to show off his unmatched ability of providing intensity and emotion, which is always a good thing.
If there's any true negative to the film, it's that the ending feels very rushed. The movie flows quite smoothly with Vinny training for his comeback, and then we're all the sudden thrown straight into his comeback fight, with no time to build up the anticipation for the fight and how some of the characters feel about it beforehand.
Bleed for This may seem similar to many other boxing films, but its immense attention to character, suspense building, and its wonderful (if clichéd) message of "never give up" all elevate it, and Miles Teller's stunning (dare I say Oscar worthy) performance brings the film to a whole new level.