Arctic Monkeys: Tranquility Base Hotel & Casino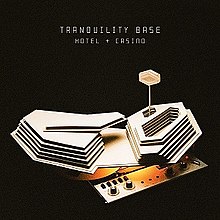 For many of us, the hiatus of alternative band, the Arctic Monkeys, had been too long, but on Friday, May 11, 2017 that 5-year hiatus has finally came to an end with the release of Tranquility Base Hotel & Casino. I must admit that I was excited about this album's release.
The band changed their style with the release of AM, their 2013 album. It had a deeper rock feel and was clearly different than their 2000s albums. I couldn't help but wonder if this album would be the new, the old, or a completely different Arctic Monkeys.
Right off the bat, I noticed the deep vocals by lead singer Alex Turner, who wrote the whole album on an upright piano in a spare room. The intense bass from start to finish is also too prevalent to go unnoticed.
There were no singles releases leading up to the full album release. On Monday, May 14, the video for 'Four Out of Five,' was released. It seems as if the band wants listeners to engulf all their new material at once. Personally, Four Out of five was one of my favorite tracks off the album.
Tranquility Base Hotel & Casino was inspired by outer space conspiracy theories, according to front man, Turner. Lyrics in songs throughout reference these theories, specifically the widely popular moon landing theory.
While I didn't enjoy this release as much as AM and Favorite Worst Nightmare, two previous albums, Tranquility Base Hotel & Casino was still pretty good. There aren't really any choruses, which is unique, but takes more than a couple listens to get used to. Don't get me wrong, this was a good album, I just favor the albums where all four members created music and not just one.
To answer my own and many other fans' question, this album is like the 'new' Arctic Monkeys, with a twist. AM featured more guitar riffs while this album focuses more on the low, deep sounds of the bass guitar and even some piano. I enjoyed Tranquility Base Hotel & Casino and will be listening to it on repeat for a while.