Beach Fossils: What A Pleasure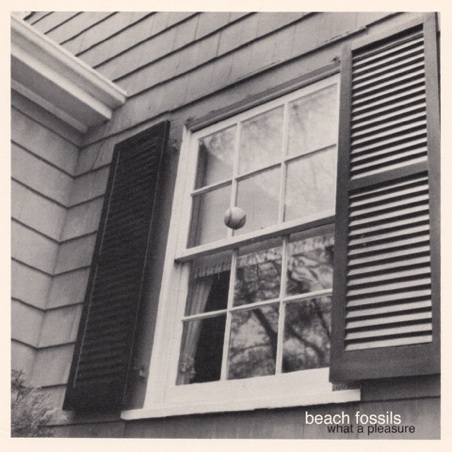 Rating: 8.5/10
Highlights: "Adversity", "Out in the Way (ft. Wild Nothing)", "Face It", "What a Pleasure"
Themes of love, heartbreak, loneliness, and nostalgia are just some of components to what I believe creates the very mood and atmosphere of the 2011 What a Pleasure album by Beach Fossils.  With carefully intertwined guitar leads and rhythm, catchy choruses, and noticeably moody lyrical content, the band creates a one-of-a-kind and unforgettable album.  
The lo-fi indie, surf rock, and even dream pop genre is very well known for its sometimes airy vocals, and strong guitar leads that make it distinguishable amongst other genres, but also makes it sometimes blend in its own genre and scene. What a Pleasure, however, does not do that. Instead, Beach Fossils, consisting of lead singer Dustin Payseur, Tommy Gardner, Jack Doyle Smith, and Tommy Davidson, have created an album that stands on its own.
The first song, "Moments", is the shortest track off the album. What I immediately noticed is the striking resemblance to a later tack, "Adversity." The instrumentals are similar, but it had to be on purpose, due to the exact drum fill that appears later into the song and the very same harmonious vocals which later appear at the end of the final song in the album. Perhaps this was done to emphasize the later track, and the feelings that flow heavily into it.
The title track, "What a Pleasure", opens with a jangly guitar, and very quiet vocals. It seems to be a song that, like some of the others on the album, is directed at a particular person. "Thinking thoughts of you and me", although it is quite a simple song, lyrically, the instrumentals play quite a role in carrying its message. "Fall Right In" follows after that with a catchy dreamy guitar hook, and a theme of nostalgia of a relationship and its history.  Lots of imagery is used to describe the simple moments between Dustin Payseur and the person he was or is still in love with. He repeats "I'll do it again, I'll fall right in" which maybe could mean he'd do this all over again: speaking to them all night, spending all of his time with them, and completely falling for this person, as described in this song.
"Out in the Way" is the fourth track off What a Pleasure, which features Jack Tatum (Wild Nothing), and captures a true sense of loneliness and longing to be with someone you lost. "Everything feels different now, here without you." Tatum and Payseur harmonize throughout the entirety of the song, with a strong instrumental influence coming from Tatum. Although it's masked in a catchy beat, it's darker, very emotional mood becomes more obvious halfway through the song.
"Face It" follows that, opening with the lyrics "Face it, I turn to you and I can face it." The first few second are filled with delayed guitars soaked in reverb, creating a dreamy feel to the song. Dustin sings, "I'd give up country life, I'd fall for you anytime" during the chorus which makes me believe he may still be singing about the person sung about in the previous songs. That is, if he's singing about a specific person at all, which by now seems very likely. "Distance" is the sixth track off of the album, consisting of very trebly guitar hooks, reminiscent of 60's pop/rock music, opening up the song and carrying throughout the majority of it. Like the title clearly states, this track seems to be about being far from someone, and maybe even being hurt by the fact you can't really see that someone for the time being.
"Calyer" opens with a guitar lead, which has a somewhat surf rock beachy atmosphere to it. There are very few lyrics in the song, so the instrumentals become very memorable. It has a poppy feel, which is enjoyable since many of the songs on this album breathe a dark undertone. It feels fresh and brightens the mood.
This final track has easily become one of my favorite songs off of the album. "Adversity", although being quite catchy, it is also very haunting not only because of the lyrics sung in a somewhat hushed toned, and lyrical content, but the instrumentals create a very atmospheric dreamy theme throughout. "Oh the clouds are moving in, oh we're all so new to this," represents the artist experiencing new things. Lots of imagery is created, and this final track stands as its own. "All that you see, do you wanna be, (you and me) adversity," repeats during the chorus, and it's up to question what exactly this could mean. The most logical explanation is that Payseur is singing about sorrow, hardship and maybe even disaster. But to be more specific, it might be about all of those things, but experiencing all of that with a person you care about. Towards the end of the song, there is a very simple guitar solo which, as an addition, is a nice touch, then the key changes right after as we move along into the final chorus. Towards the last 45 or so seconds, it begins to sound an awful lot like "Moments". The harmonious vocals, drum beat and similar arpeggio pattern appear, which makes me ask, "Why?"  Maybe it's not that deep, but it does make me wonder.
There was also a visually intriguing music video that accompanied "Adversity", which was directed by Dustin Payseur himself, that featured two women covered in a ghostly white paint. Many scenes were shot in the woods, and oranges appeared heavily in the different scenes. This might be symbolism for love, promise and endurance, as oranges are made to represent in a few different cultures, or maybe he was just being creative with the visuals.
Either way, overall I would rate this album an 8.5/10. The reason being is that there were many achievements made through this album and I found myself enjoying the majority of the songs. I'm left remembering all of the words and coming back time and time again to revisit these hidden gems in music; I feel as though this was a very vulnerable and honest album. Beach Fossils opened up and told us how they felt, and what haunted and bothered them, and that created, what I feel is, a personal diary, written by Dustin himself. Fall 2016 playlist, anyone?