Hamilton: The Original Broadway Cast Recording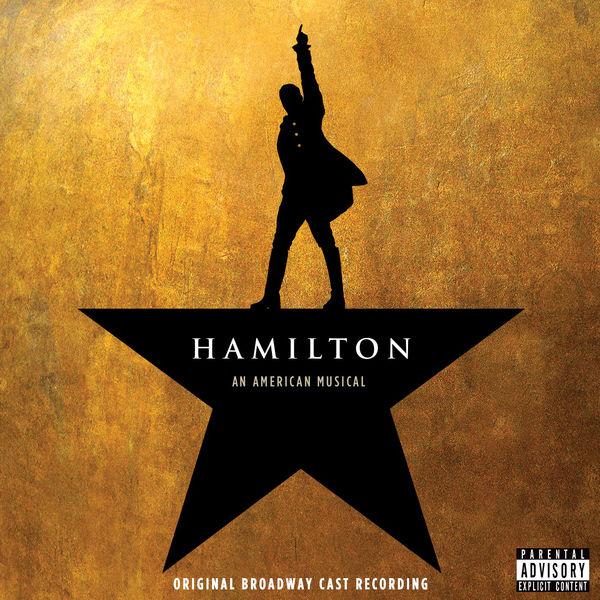 Hang on for a minute...we're trying to find some more stories you might like.
RATING: 10/10
HIGHLIGHTS:
Act 1 – Aaron Burr, Sir, My Shot, The Schuyler Sisters, Satisfied, Wait For It
Act 2 – Cabinet Battle #1, Say No To This, Burn, It's Quiet Uptown, The World Was Wide Enough
Lin-Manuel Miranda's Hamilton isn't the first Broadway production about the life of Alexander Hamilton (he was beat to the chase way back in 1917,) and many will be quick to note it's not Miranda's first successful run in a Broadway theatre. Before Hamilton he gave us In the Heights, and even that, a musical initially conceived when he was a sophomore in college, showed his immense promise. The fusion of traditional Spanish elements and Miranda's (soon-to-be well known) rapping truly lived up to its tagline, "A New Musical." Now, after winning a Grammy and countless theatrical awards, it's happening all over again.
Hamilton has many, many reasons to be the biggest show on Broadway at the moment. Miranda crafts his characters (caricatures?) in such a way that you kind of have to sympathize with them. Not just with Hamilton's heart-wrenching tale of "coming up from the bottom," but even with our main protagonist and narrator, Aaron Burr. In the musical's penultimate number, "The World Was Wide Enough," Burr (played by Leslie Odom Jr.,) remarks before he pulls the trigger in the infamous duel that killed Hamilton, "I had only one thought before the slaughter; this man will not make an orphan of my daughter," voice trembling all the while. If the characters don't elicit an emotional response, they're just plain hilarious, Johnathon Groff's King George III being the best example. His songs during and after the Revolutionary War are like the most pitiful breakup anthems, boasting lyrics like "I will kill your friends and family to remind you of my love." He gets a mere 3 songs in this extensive track list of 43, but each one is a light-hearted reminder of just how determined Britain was to win the American colonies back. The triumph of the American soldiers, however, proves otherwise. "Farmer Refuted," named for an actual writing by Hamilton in rebuttal to loyalist Samuel Seabury, features the former absolutely destroying Seabury's attempts at silencing the revolution. In character as Hercules Mulligan, Okieriete Onaodowan delivers some of the most jaw-dropping verses of the musical in "Yorktown (The World Turned Upside Down,)" usually back dropped by the whooping of hype-men and the occasional "wow" from his friends. Marquis de Lafayette, portrayed by rapper Daveed Diggs, produces the single fastest line in Broadway history in the song "Guns and Ships," clocking in at 6.3 words a second.
Oh, and sure – maybe there's a little bit of Alexander Hamilton in all of us. It's the struggle to stay above water and achieve his dreams that coaxed Lin-Manuel Miranda into writing a hip-hop musical about him in the first place. He's the "original gangster," to quote Miranda, and that is ever-apparent in the opening number. Hamilton survived a hurricane, an unrelenting illness that killed his mother, the absence of his father, and the suicide of his cousin who was supposed to raise him after he was orphaned. The way these events are relayed, with each verse being delivered by a different cast member, the harsh reality is exposed: things just didn't get better for poor Alexander Hamilton. That is, until the "self-starter" literally wrote his way to America. "Plannin' for the future / see him now as he stands on the bow of a ship / headed for a new land," Burr gasps, after his old home in the West Indies started a collection just to send him to college. "In New York, you can be a new man!"
Aaron Burr's initial advice to a young, outspoken Hamilton to "talk less, smile more" never quite is taken, at least not after he meets his revolutionary friends, Mulligan, Lafayette, and John Laurens. In Hamilton's official first-person introduction, "My Shot," the four of them share their upbringings, and why they plan to join the rebellion. Ambitious, rowdy and determined to "rise up," they beat-box their way into a success, with Hamilton becoming George Washington's second-in-command, and in the second act, the first Treasury Secretary. His visions for America are absolutely ridiculous considering the times, but wouldn't you know it – they work, and not only that, they outlive him. Alexander Hamilton is not just the face on the $10 bill – he's the reason our financial system exists, despite how hard Daveed Diggs' verse-spitting Thomas Jefferson tries to end it in "Cabinet Battle #1." That's what Miranda does best in his portrayal of him, his friends and foes. They're humanized like history books have never done for them before. Democratic-Republicans Thomas Jefferson and James Madison, Hamilton's greatest opposition, each have their fun little quirks. Madison is a coughing, red-faced mess, and Jefferson has a bit of a sailor's mouth and tendency to think too highly of himself. The Schuyler Sisters, consisting of Hamilton's wife, Eliza, and her sisters Angelica and Peggy, are strong feminist figures, delivering impactful one-liners in their titular track such as Angelica's "we hold these truths to be self-evident / that all men are created equal / and when I meet Thomas Jefferson / I'ma compel him to include women in the sequel!" We get to see Angelica and Eliza become absolutely stricken by infatuation when Hamilton meets them in "A Winter's Ball." Eliza is "drowning" in his eyes during "Helpless," (her Beyoncé anthem,) and Angelica tries her best to get involved ("I'm just sayin' if you really loved me, you would share him.") Think of your U.S. History class … were you taught just how much of a ladies man Alexander Hamilton was?
Of course, that doesn't always play out in his favor – Hamilton was the center of the first major political sex scandal, which effectively ended his career and temporarily damaged his relationship with Eliza. "Say No To This" finds Jasmine Cephas-Jones abandoning her original minor role of Peggy Schuyler and returning as Maria Reynolds – the woman who seduces Hamilton into bed and, ultimately, into perhaps the most beautiful duet of the entire musical. Subject matter aside, you are almost guaranteed to get chills during "Say No To This," perhaps even reaching for the repeat button. Eliza's eventual response to the news of the affair, "Burn," is just as incredibly moving, though I will warn you, "Burn" is about when you can expect getting just a tad teary-eyed. Hearing the same Eliza who once cheerfully crooned "that boy is mine" retract her own statements with "when you were mine" is, well, pretty heartbreaking.
For the sake of not spoiling the story, I opt to leave out quite a bit leading up to Hamilton's fatal dual with Aaron Burr after their long-growing falling out, perhaps starting way back when Hamilton is promoted in "Right Hand Man." Yes, it is ironically true that the man who told Hamilton that duals were "dumb and immature" challenges him to one later in life. Yes, it ended in the untimely death of Hamilton (which, at least in the musical, Burr immediately regretted). What I will tell you is that "The World Was Wide Enough," a twisted reprise of both "Ten Duel Commandments" and "Aaron Burr, Sir" features some of Hamilton's most profound statements about legacies, both of his own and of America's. The last song, "Who Lives, Who Dies, Who Tells Your Story," is almost entirely narrated by Eliza, who goes on to finish what Hamilton started for another fifty years after his death. She forgives him for his actions in "Say No To This," publishes his writings, starts an orphanage (that still very much exists,) and, ultimately, poses a huge question to the audience – "who tells your story?"
That line is the epitome of Hamilton – we're telling his story. Eliza did, and now the very country he had such big dreams for is continuing it. America, in Hamilton's eyes, was an "unfinished symphony," one still in production today. So now it is up to us to make our mark and make sure our stories are told. Maybe things didn't end that well at all for Hamilton. "His enemies destroyed his rep; America forgot him," says Burr. However, thanks to Miranda and his incredible cast, he's back and he's better than ever.
So, America, "what do you stand for?" Alexander Hamilton wants to know.